New Look, Same Formula.
Exciting news! We've elevated the look and feel of the Medterra brand to reflect the excellence of our products. As we roll-out this fresh look across all of our products, you may receive items labeled with original packaging or our updated look - but rest assured its the same great product you love either way. Thank you for understanding!
Easy-to-swallow and precise dosing.
Our premium CBD Isolate gel capsules combine the purest CBD suspended in organic MCT oil in capsule form for easy consumption and the perfect serving size any time you need it.
Product Details
Description:
Convenient and consistent, our CBD Capsules are the perfect way to consume your daily CBD on the go. Each bottle contains 30 CBD capsules in strengths of 25mg or 50mg. Made from two simple ingredients, organic MCT Coconut Oil and CBD Isolate, our gel capsules can be taken in the morning or night.

With our proprietary extraction method, we guarantee there will be zero THC in this product. If you have concerns around THC consumption or drug testing, CBD Isolate is your best bet. You should not test positive on a THC drug test, even if using this CBD Isolate regularly.
Servings

30 count - 25mg or 50mg
Flavorings

Unflavored
Recommended Use

Take 1 capsule as needed. Use regularly for best results.
Ingredients
Active Ingredients
Other Ingredients
Cannabidiol (Hemp Extract)
Cannabidiol (CBD) is a major cannabinoid extracted from the hemp plant that interacts with the body to create a balanced state. When used regularly, consumers report improvements in sleep, occasional discomfort, and stress management.
Organic Medium-Chain Triglyceride (MCT) Oil (Coconut derived)
Bovine Gelatin
A protein product produced by partial hydrolysis of collagen.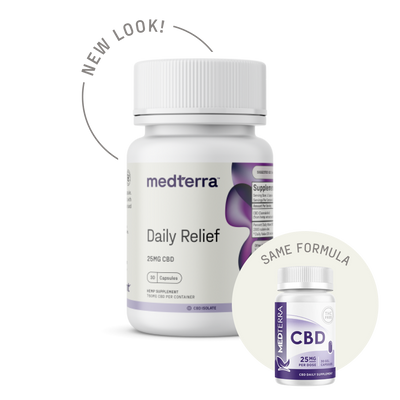 Isolate CBD Gel Capsules FAQ
How do CBD pills or capsules work?
These work like any normal capsule or pill you may have taken in the past. CBD capsules make it easy to get consistent serving sizes and can be easily taken with water or food.
Are CBD capsules better than CBD oil or drops?
We don't believe one way is better than the other – it simply depends on personal preference. While a tincture does absorb faster, pills and capsules make it easy to get a consistent dose.
I am from a state where it's illegal to use medical marijuana. can I still buy CBD pills?
Medterra's hemp is grown and extracted under the strict guidelines of the Kentucky Department of Agricultural Industrial Hemp Pilot Program, which allows us to legally sell across all 50 states.
Are CBD capsules good for wellness?
Researchers have performed many studies on CBD capsules and their effects on temporary pain and inflammation, showing positive results. To know if CBD is right for you, we recommend trying it out for about a week and seeing if it helps.
Are CBD capsules good for temporary anxiety or stress?
Researchers are currently performing studies on CBD and its effects on temporary anxiety and stress. Results are still being determined.