Upgraded best-seller
Experience enhanced stress relief and tension relief with our upgraded formula. Our best-selling product now contains 25mg of Broad Spectrum CBD, 125mg of clinically proven Sensoril® Ashwagandha, and an additional 75mg of l-theanine for ultimate relaxation.
Revamp for better taste
Our newly designed mess-free packaging ensures the freshness of your gummies, preserving their flavor and potency for an optimal experience.
Introducing our newest flavor
Indulge in the deliciously bright and well-balanced taste of Strawberry Lemonade with our latest flavor, transforming your daily dose into a tasty treat for your taste buds.
Product Details
Description:
Our Keep Calm gummies have been upgraded for an even better soothing and nurturing experience. With 50mg CBD in our broad-spectrum option, you get the benefits of the combined power of plant compounds. We've also included 125mg of Sensoril® Ashwagandha and 125mg of l-theanine, clinically proven to reduce stress and ease tension for complete relaxation of both the mind and body. Opt for the +50mg premium CBD option for an added therapeutic boost.
Servings

30 servings
Recommended Use

Take one gummy during the day or as needed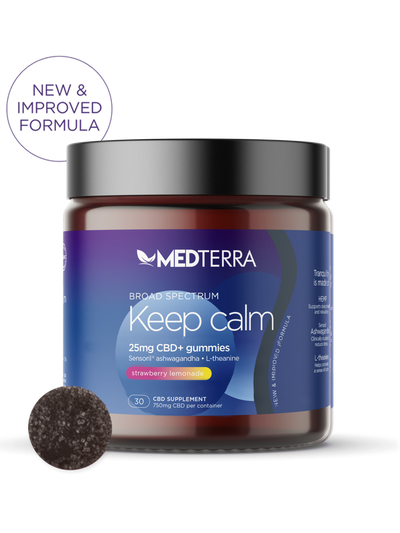 Keep Calm Gummies FAQ
What are Keep Calm Gummies?
Keep Calm Gummies are CBD-powered gummies designed to help you regain your chill. Nourish your body and soothe your mind — the natural way. Keep Calm Gummies also contain the ultra-relaxing amino acid L-theanine and a special form of ashwagandha.
How will these Gummies affect me?
Keep Calm Gummies might just have you feeling calm, collected, and centered! People who try them say just one gummy's enough to unwind after a long day at work or with the kids. These gummies have side benefits, too: some people report an easier time getting to sleep.
Why do these Gummies contain ashwagandha?
Ashwagandha is known to reduce stress and ease tension. And we don't use just any Ashwagandha in our formula, either. Each Keep Calm Gummy contains 125 milligrams of clinically-proven Sensoril® Ashwagandha.
Why do these Gummies contain L-theanine?
L-theanine is a natural amino acid derived from green tea. Studies show that it can promote calmness without causing drowsiness. To us that's a win-win! Each Keep Calm Gummy contains 125 milligrams of L-theanine. That's enough to have you feeling calm all day.
How do I take Keep Calm Gummies?
Most people get all the chill they need from taking one gummy per day. The timing is completely up to you: take your daily gummy in the morning to keep calm throughout the workday, or in the evening to naturally unwind.
Can I take more than one Gummy per day?
You can . . . but you probably won't need to. Each Keep Calm Gummy contains 25 milligrams of broad spectrum CBD. If that's not enough, our extra-strength Gummies contain 50.
Do Keep Calm Gummies contain any THC?
Nope. Keep Calm Gummies are powered by a premium broad spectrum extract that's rich in CBD, terpenes, and flavonoids . . . and 100% THC-free.
Will these Gummies show up on a drug test?
It's very unlikely. Keep Calm Gummies don't contain any THC, and CBD is unlikely to get converted into the metabolites standard drug tests are designed to detect.
Why choose gummies over other delivery methods?
Gummies make the CBD experience simple, straightforward, and convenient. No mental math or measuring out ingredients! Oh, and one more thing: gummies are the tastiest way to experience CBD by far.