New Look, Same Formula.
Exciting news! We've elevated the look and feel of the Medterra brand to reflect the excellence of our products. As we roll-out this fresh look across all of our products, you may receive items labeled with original packaging or our updated look - but rest assured its the same great product you love either way. Thank you for understanding!
Deeper sleep in one delicious bite.
With an industry leading 2mg of THC and 5:1 ratio of CBD to other beneficial cannabinoids, these vegan gummies are the most enjoyable way to experience deeper, richer, CBD wellness. Our Deep Sleep Gummies come in a delicious mixed berry flavor, contain 3mg of melatonin, and are the perfect compliment for your nighttime routine.
Product Details
Description:
Our Deep Sleep Gummies contain 30mg of Full Spectrum Hemp Extract, which is made up of 25mg of CBD, 2mg of THC, and 3mg of additional minor cannabinoids,* in combination with 3mg of melatonin. This perfect compliment for your nighttime routine comes in a delicious mixed berry flavor.

Early research into the interaction between various hemp compounds (CBD, THC, additonal minor cannabinoids) has shown that they work together through something known as the entourage effect – a potentiating interaction that strengthens the effects of CBD, allowing for a deeper CBD experience.

Your Trust. Certified.
Our products are third-party tested to confirm accuracy and ensure THC levels are below the legal limit of .3% THC (by weight).

Due to the presence of THC, users of this product may test positive for cannabinoids in a drug test. May cause drowsiness. Do not drive or operate heavy machinery after use.

*May vary slightly per batch, please reference lab results for detailed breakout.

Prop 65 Warning: Product contains THC. California has recognized THC as potentially causing reproductive harm - p65warnings.ca.gov
Servings

20 count - 25mg
Recommended Use

Take 1 gummy 30 minutes before bedtime. Use regularly for best results.
Cannabidiol (Hemp Extract)
Cannabidiol (CBD) is a major cannabinoid extracted from the hemp plant that interacts with the body to create a balanced state. When used regularly, consumers report improvements in sleep, occasional discomfort, and stress management.
Melatonin
Melatonin, often referred to as the sleep hormone, is a central part of the body's sleep-wake cycle. Melatonin is most commonly used for insomnia and improving sleep in different conditions.
Organic Tapioca Syrup
Organic Cane Sugar
DI Water
Water that has been treated to remove all ions – typically, that means all of the dissolved mineral salts.
Organic Pear Juice Concentrate
Organic Tapioca Maltodextrin
Citrus Pectin
A plant-derived gelling agent.
Organic MCT Oil (Medium Chain Triglycerides)
Citric Acid
A weak acid that is found naturally in all citrus fruits used as a preservative.
Sodium Citrate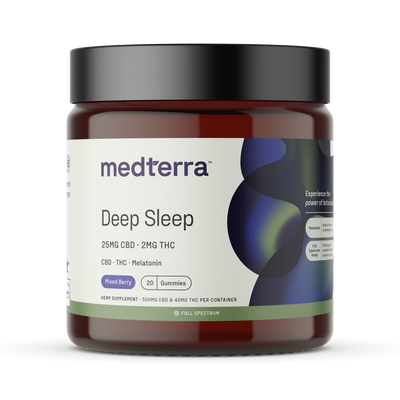 True Full Spectrum™ Deep Sleep CBD Gummies FAQ
How long do full spectrum gummies take to start working?
The time it takes for users to feel the effects tend to vary, but usually it can take around 30 minutes to an hour.
Will full spectrum CBD show up on a drug test?
Although full spectrum CBD contains the federally legal amount of THC, no more than 0.3%, it may still show up on a drug test. We advise you not to consume full spectrum CBD if you are subject to a drug test.
What does full spectrum gummies mean?
Full spectrum gummies include a variety of cannabis plant extracts, including essential oils, terpenes, CBD, and other cannabinoids.
What effect does CBD gummies have on the body?
Users of CBD gummies have reported a variety of beneficial effects, including relieving stress, physical discomfort, sleep support, and an overall calming effect.
Do full spectrum CBD gummies help you relax?
Users of full spectrum CBD gummies have reported a feeling of relaxation and a calming effect.