Melt your worries away within minutes
3x faster and 4x more effective than traditional gummies
Lightning-fast results
Advanced proprietary nanotechnology allows faster absorption into your system in as little as 10 minutes.
Targeted timing
You can now take control of your calm whenever and wherever you'd like
Packs a punch
CBG, L-theanine, GABA and Skullcap synergize at once, creating a perfect storm.
Best-in-class
Say goodbye to traditional wellness gummies that often take 1-2 hours to feel their effects. There's a new dynamic powerhouse in town.
Relax now
Last minute meeting with the boss or just need to chill out ASAP? Breathe easy- our ingredients are found in nature and backed by science to help you chill to the max.

We've packed our gummies with all-natural flavors. Choose between spirit lifting citrus. Or tropical to transport you to your personal paradise. Best in class
We like being the leader of the pack, so we make sure we deliver whenever we introduce something new.

Our gummies are three times faster than a traditional CBD gummy, enriched with active ingredients and smart botanicals, and bursting with natural fruit flavor over excessive added sugars.
INTRODUCING
Relax Now & Fast Asleep
Advanced nanotechnology gives these gummies their superpowers, making it possible for effects to be felt in less than ten minutes.

Formulated around stress-reducing CBG (Relax Now) and sleep-promoting CBN (Fast Asleep), both gummies are enriched with science-backed botanicals for maximal nourishment. while natural fruit flavors tantalize tastebuds.
Product Details
Description:
Relax now with a fast-acting gummy utilizing proprietary advanced nanotechnology for a quick calming effect, felt in less than ten minutes. Advanced nanotechnology delivers a soothing, science-backed fusion of premium CBG, amino acids and herbs directly into the system to relieve tension and soften your body's stress response for peace and quiet within.
Next time life throws you a curveball, you'll be prepared. Our fast-acting gummies are made to provide calming effects in less than ten minutes thanks to advanced nanotechnology (that's science speak for supercharged absorption) so that stress-reducing CBG, I-theanine, mind-quieting GABA, and nourishing skullcap can soothe and steady the system- stat. Add all-natural fruit flavors to the mix, and you've got backup that tastes as good as it feels.
Servings

30
Recommended Use

Take one gummy 10 minutes before desired state of calmness. Take regularly for a prolonged period for maximum effectiveness.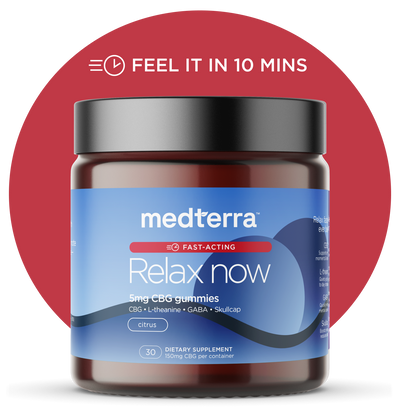 Relax Now Fast-Acting Gummies FAQ
How long do Relax Now Gummies take to start working?
How will these Gummies affect me?
Do Relax Now Gummies contain any CBD?
Do Relax Now Gummies contain any THC?
Will these Gummies show up on a drug test?